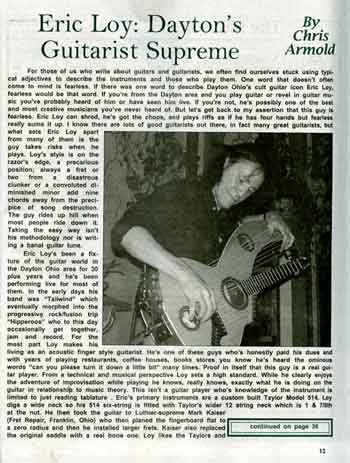 Guitar Digest
April-May 2004
Volume 19, Number 2
www.guitardigest.com
For those of us who write about guitars and guitarists, we often find ourselves stuck using typical adjectives to describe the instruments and those who play them. One word that doesn't often come to mind is fearless. If there was one word to describe Dayton Ohio's cult guitar icon Eric Loy, fearless would be that word. If you're from the Dayton area and you play guitar or revel in guitar music, you've probably heard of him or have seen him live. If you're not, he's possibly one of the best and most creative you've never heard of. Let's go back, though, to my assertion that this guy is fearless. Eric Loy can shred; he's got the chops and plays the rifts as if he has four hands, but fearless really sums it up. I know there are lots of good guitarists out there, in fact, many great guitarists, but what sets Eric Loy apart from many of them is the guy takes risks when he plays. Loy's style is on the razor's edge, a precarious position' always a fret or two from a disastrous clunker or a convoluted diminished minor add nine chord away from the precipice of song destruction. The guy rides up hill when most people ride down it. Taking the easy way isn't his methodology nor is writing a banal guitar tune.
Eric Loy's been a fixture of the guitar world in the Dayton Ohio area for 30 plus years and he's been performing live for most of them. In the early days, his band "Tailwind", which eventually morphed into the progressive rock/fusion trip, "Hipperoos" who, to this day, occasionally get together, jam and record. For the most part, Loy makes his living as an acoustic fingerstyle guitarist. He's one of those guys whose honestly paid his dues and with years of playing restaurants, coffee houses, book stores, etc., you know he's heard the ominous words: "Can you please turn it down a little bit?" many times; proof in itself that this guy is a real guitar player. From a technical and musical perspective, Loy sets a high standard. While he clearly enjoys the adventure of improvisation while playing, he knows, really knows, exactly what he is doing on the guitar in relationship to music theory. This isn't a guitar player who'fs knowledge of the instrument is limited to just reading tablature.
Eric's primary instruments are a custom built Taylor, model 514. Loy digs a wide neck, so his 514 six-string is fitted with Taylor's wider 12 string neck, which is 1 & 7/8" at the nut. He then took the guitar to luthier-supreme Mark Kaiser (Fret Repair, Franklin, Ohio) who then planed the fingerboard flat to a zero radius and then he installed larger frets. Kaiser also replaced the original saddle with a real bone one. Loy likes the Taylors and of course the fact that they were able to accommodate him with the wider neck, helped in his decision. However, he does admit there are plenty of quality acoustic guitar available other than Taylor.
In addition to his acoustic guitar, Loy is also widely known for his prowess on the harp guitar.. .a turn of the century (last century, that is) instrument originally produced by Gibson. For years, Loy relied on an antiquated 1910 era Gibson harp guitar for many of his instrumental numbers. In 2001, Loy decided to upgrade his equipment and went in search of a design that would suit his needs. He discovered a design he felt would be appropriate for him and obtained blue prints for Dyer harp guitars which were produced in the 1920's. With blue prints in hand and a few modifications to the design, Loy went back to luthier Mark Kaiser to have the guitar constructed. The basic design of the Dyer harp called for a standard guitar neck with 6 strings plus an additional six bass harp strings strung over an additional 'upper neck'. Loy's design was just 'slightly' more aggressive. Instead of six bass harp strings, he wanted eight. Then he wanted five mid-range harp strings positioned beneath the bridge on the lower bout and another five treble harp strings positioned in the pickguard area of the body. For electronics, Loy opted for four L R Baggs active pickups. The guitar body and neck were handmade by Mark Kaiser and features Adirondack red spruce top, quarter sawn, mahogany sides and some maple on the headstock. The fretboard is 1 and 7/8" at the nut and flat (zero radius). It's heavily over-braced inside due to Loy's propensity to use his guitar as a percussion instrument. When it's all said and done, it's a beautiful guitar and it more than does the job that Loy intended. The harp guitar with Loy plucking the strings, produces some wonderful musical magic.
Eric Loy has been making music and playing live for the past three decades. He's recorded much of his work on CD and it's available at his website, www.ericloy.com . His current CD, "Catapult", features a variety of his work including fingerstyle guitar, harp guitar and even some new cuts by Hipperoos. It's a fun album to listen to and it says more about Eric Loy than this article ever could. For more information on Eric, visit his website at www.ericloy.com . You'll be albe to listen to cuts of his CD's, purchase CD's and you'll see his gig itinerary. Catch this guy live and you'll be glad you did. Article by Chris Arrnold for Guitar Digest April-May 2004 issue Volume 19, number 2 www. guitardigest. com